How to give a one minute wedding toast (and why you should!)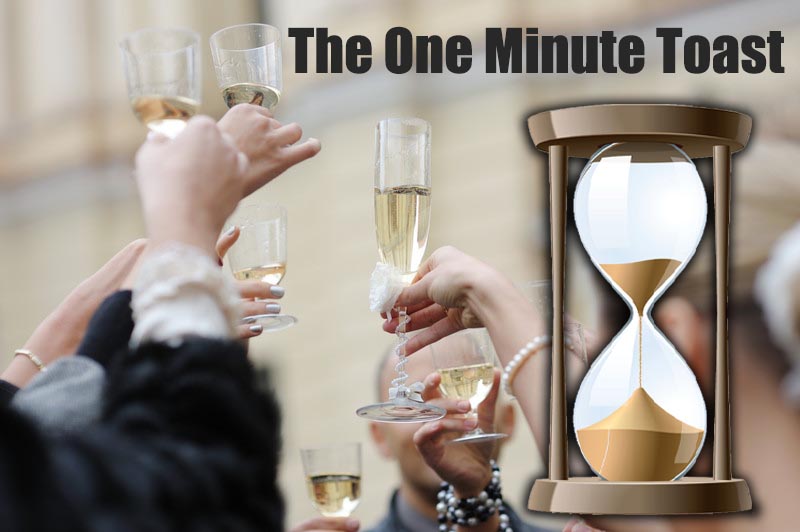 How many bad wedding toasts have you heard? Too many! Long toasts get boring fast, and frankly, most toasts ARE too long. It's simply hard for an average Joe to pull off a scintillating toast that dazzles your guests. So what do you do? Keep it short by making a one minute wedding toast.
The best toasts have a natural, ad-libbed feel to them, and that's much easier if you can keep it short. But, as Mark Twain said,
"It usually takes three weeks to prepare a good impromptu speech."
So, if you're willing to take Mr. Twain's advice and do some preparation, you'll have wedding guests right in the palm of your hands. But it helps if you have a strategy.
First, keep in mind that the purpose of a wedding toast is to honor the wedding couple. Emotion matters. The best toasts make your guests laugh and cry. Far too many of a best man THINK he's funny, when in fact he's not.
So the simplest strategy to giving a beautiful one minute wedding toast is to simply use sincerity. For example:
"Have you ever wondered what the meaning of life is? You know, I'm not much of a philosopher, but I think the answer is that life has meaning, and the meaning is all about love.

Our life should be all about loving. That's exactly why [groom's name] and [bride's name]'s marriage inspires me so much. Their kind of love is more than just a feeling, it's an action. They've shown me, and I'd guess you, too, that love is all about giving. I see how they give of their time, their treasure, and their talent to help others, and it makes me want to be a better man.

For those of you who think the world is going to hell, I have some good news: the world is about to get a whole lot better with the marriage of these two kind, wonderful human beings. I am honored to call them both friends. Together, let us lift our glasses in a toast to Mr. and Mrs. [last name]."
You CAN pack a lot of punch in a one minute wedding toast.
There's another reason to keep toasts short. It leaves more time for dancing! With Four Star Entertainment providing entertainment at your San Antonio wedding celebration, you will enjoy a packed dance floor all night long. Learn more today without obligation.  Call us anytime at 210-326-0649 to discuss your celebration!